"I had thousands of notes and no naming convention. I didn't know about tags. I just couldn't find anything anymore."
That's Diana, a client of Evernote Certified Expert Stacey Harmon, and she's not alone. It's easy to get started with Evernote—saving everything that is, was, or could possibly be important—but staying organized sometimes takes a little bit more effort.
That's why we launched the certified Evernote Expert program, to help support our customers in their journey to a more organized life. Now it's easier than ever to go from feeling disorganized to in-control. Here's what Diana has to say now:
"I've gotten more efficient now because I actually developed skills. I didn't even know half the stuff Evernote did! Now it's easier to move through my process of capturing information, naming it quickly and putting it in the right place. Now I know I'll be able to find it later.

I'm so glad I invested in myself and took the plunge to work with an Evernote Expert."
What is an Evernote Expert?
Experts are individual coaches and consultants who have passed certification training from Evernote. With their in-depth knowledge, they can help you customize Evernote to do exactly what you need it to do—including using features you might not know about yet. They'll show you how to optimize your workflows and feel confident in those processes, and provide many different resources you can take advantage of. While they don't work for Evernote, their passion for the product and our customers is as strong as our own.
What can an Evernote Expert help me with?
Experts are productivity coaches, Certified Professional Organizers®, and business and leadership consultants who have a variety of different specialties and interests. If you're looking for help with task management, running a small business, or organizing your personal life, there's an Evernote Expert ready and willing to help.
Who typically hires an Evernote Expert?
Experts work with anyone wanting to use or already using Evernote. Here are a few common scenarios:
Looking to learn: Whether you are brand-new to Evernote or have been using it for years, there's always something new to learn. Many Evernote Experts offer academies, courses, and personalized trainings that cover everything from the basics to taking productivity to the next level. Some even have free community groups you can join to share ideas and stay inspired.
Be more productive: By learning different methods and workflows, you can achieve your goals without feeling stressed and burned out. Evernote Experts can help you waste less time, prioritize and organize your work, and procrastinate less by pairing the power of Evernote with time management and prioritization methods like Getting Things Done® or the Pomodoro Technique.
Organize a business, team, or project: Learn how to reduce inefficiencies and boost productivity within your business. Evernote Experts can help identify bottlenecks in your processes and offer solutions to set you up for success. Think of them as a second set of eyes that can see your business from a fresh and knowledgeable perspective.
Where can I find an Evernote Expert?
View an official list of Evernote Certified Experts by browsing the Expert directory. You can filter the experts by your unique interests, preferred language, and their specific expertise. Select an Expert to learn more about them and then visit their website to contact them about their services.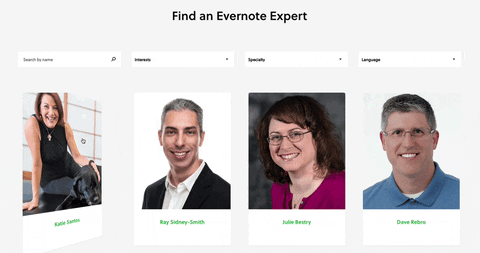 If you are interested in applying to become an Evernote Certified Expert, you can submit your application here.