Meeting Notes Template
Effective notes don't just save information, they make it useful. Meeting notes are too often filled with irrelevant details that make crucial tasks and decisions hard to find. This meeting minutes template gives you the structure you need to capture what's important—and act on it quickly.
View Template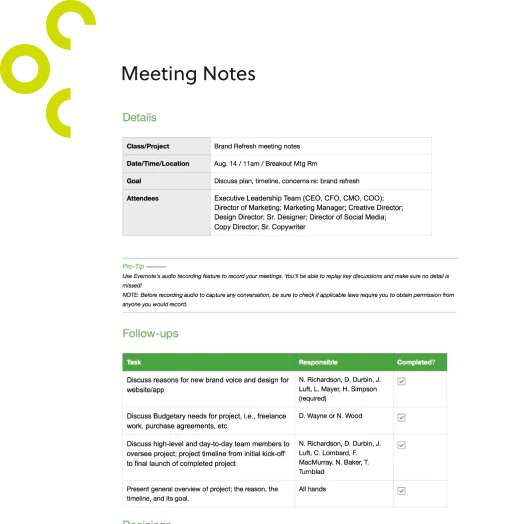 Make your minutes count
Establish the key details the first time you meet on a given project. Apply this meeting minutes format to take notes that help everyone get the information they need and avoid re-meeting.
Meeting details
Make the subject of all your meeting notes clear at a glance. Fill in this section so the project you're discussing, the meeting time, the people in attendance, and the meeting goals are front and center.
Follow-ups
Leave every meeting with a list that tells you who is doing what. This section gives you a way to delegate tasks to specific individuals. Each task comes with a checkbox, so you can easily track progress as the project moves forward. Share your note with coworkers, so everyone stays up to date.
Decisions
Never again struggle to remember where your team landed on important decisions. This section of the meeting notes template helps everyone stay clear on what agreements they made as a group.
Closure
Make your notes glanceable by adding a brief summary of the meeting, including the most vital takeaways. This allows anyone to grasp the essentials even if they only have a second to skim the notes.
Checklist
Instead of just recording information, make it actionable. The template conveniently begins a checklist for you. Easily edit the existing list items or add your own, and create a to-do list right within your minutes that helps keep you and your team on task.
Make meeting notes simple
Use this template to take notes that promote action. Effective meeting minutes do more than keep people informed. They help people understand a project more deeply with less effort, and they make it easier for everyone to get the right work done.
Get Template
Why you need online meeting notes
Have you ever left a productive meeting feeling inspired and motivated, only to forget a lot of what was planned only a few days later? Be sure you never lose the valuable content of a meeting again with a meeting notes template.
What to use meeting notes for
What to include in meeting notes
Quick tips for taking stellar meeting notes