Did you know?
Some Evernote users have tens of thousands of notes. 😱
That's a mountain of information to sift through when quickly trying to recall something. Like, What was the Q3 budget my boss mentioned? Or Does grandma's recipe for s'mores brownies call for one or two cups of mini marshmallows?
Currently, there are a few ways to find the answers you need, but each has its drawbacks. Trying to remember which notes contain what information gets increasingly difficult as the number of notes grows. Searching requires remembering exact keywords, and you still have to manually open and read the notes to find the information you're looking for. Personalized organization systems with notebooks and tags are helpful if you're proactive and consistent with their upkeep—but that hinges on unwavering diligence, and sometimes real life isn't that accommodating.
Introducing AI-Powered Search
These issues were top of mind when we conceptualized a brand new Evernote feature: AI-Powered Search.
AI-Powered Search helps you get the right information from your notes—accurately, quickly, and conveniently. Just enter a question in natural language (like What are the to-dos from yesterday's meeting?), and AI-Powered Search pulls out the answer from the content of your notes in a matter of seconds. And if you need to filter your notes instead, that's easily done. Just enter your query and we'll identify the best keywords to deliver the results you're looking for.
We all know the frustration of slogging through endless notes to find that all-important nugget of information. Obsessing over the optimal tagging system. Wracking our brains for the right filter. The power of a productivity tool like Evernote comes from it working for you, not causing you more work. AI-Powered Search provides the answers you need, right when you need them, so you can focus on getting things done.
How AI-Powered Search works
Let's take the example of Grandma's brownie recipe. It is pretty famous, after all.
So you want to recreate this delicious family recipe, but—disaster—you've forgotten a crucial step. Good thing you have the original saved somewhere in Evernote.
To get the information that's standing between you and that sweet, sweet gooey goodness, you can navigate over to the Search field, as you normally would. There, you'll see two search options: Standard (Evernote's original search feature, which remains available) and AI-Powered.
The query
Selecting the AI-Powered Search option, you then enter your search query using natural language. Basically, that means asking a question similar to how you'd phrase it to a friend—and you can use any language that's present in your notes. AI-Powered Search then uses one of two specialized AI processes based on your question.
You can phrase your question in either of the following ways:
A direct question. This is where you're looking for an answer that references specific information within your notes. In this case, How many cups of mini marshmallows are in grandma's recipe for s'more brownies?
A filter request. This is where you're looking for a subset of notes matching some specific criteria. In this case, Brownie recipes tagged marshmallows before 2020.
(Pro tip: The power of filter requests is that you can describe complex filtering criteria in your own words, based not only on the content but also on creation date, tags, notebooks, attachments, and more. Think of them as a much faster way to create boolean searches, since you don't need to worry about matching Evernote's specific search grammar.)
No matter which kind of query you use, AI-Powered Search takes into account all types of content within your notes—PDFs, Word documents, and images with text—and provides you results within seconds.
The results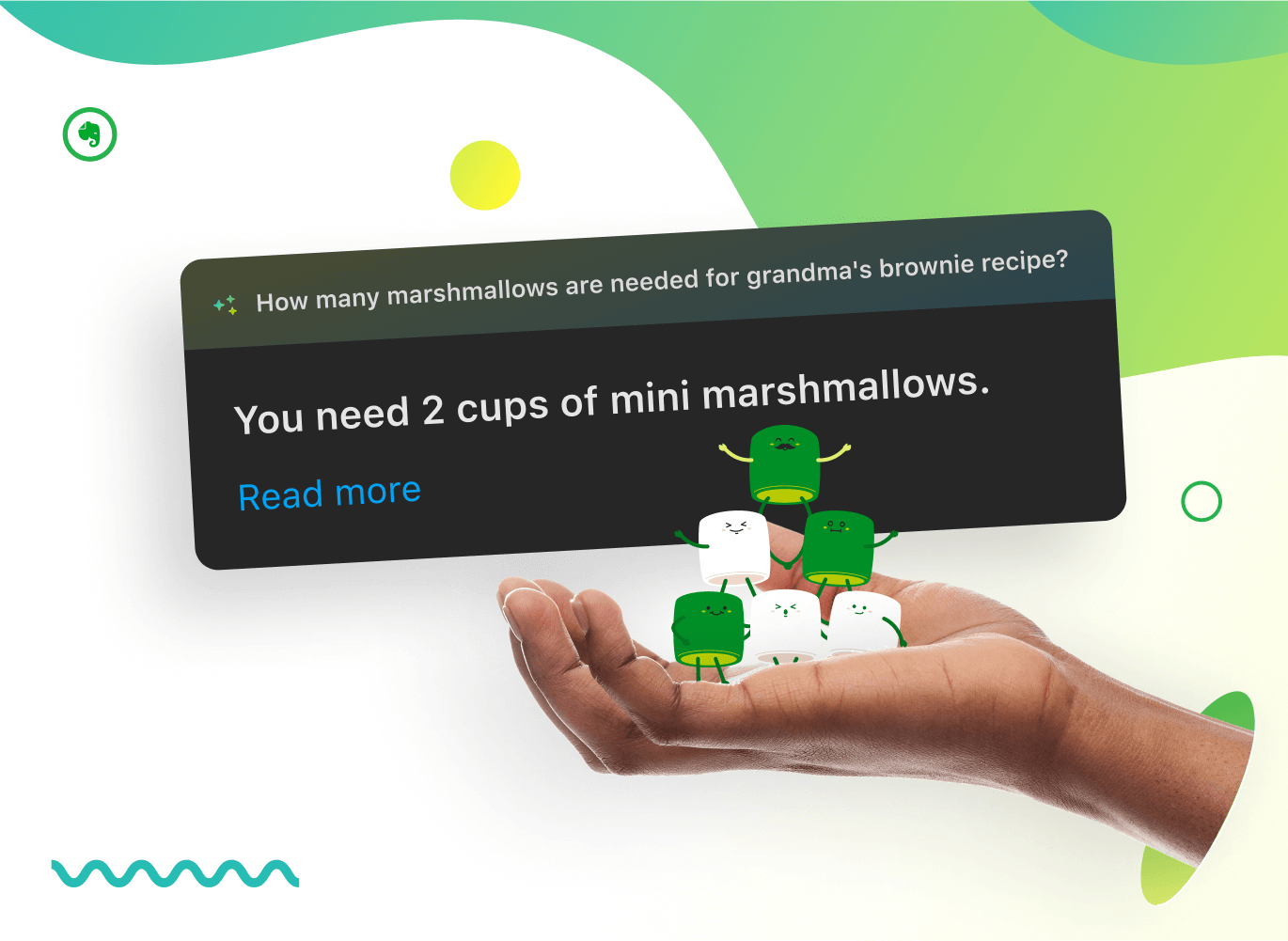 If you ask a direct question, AI-Powered Search gives you a concrete answer pulled from the most relevant note or notes, and shows the references used to generate the answer.In the case of grandma's brownies,You need 2 cups of mini marshmallows.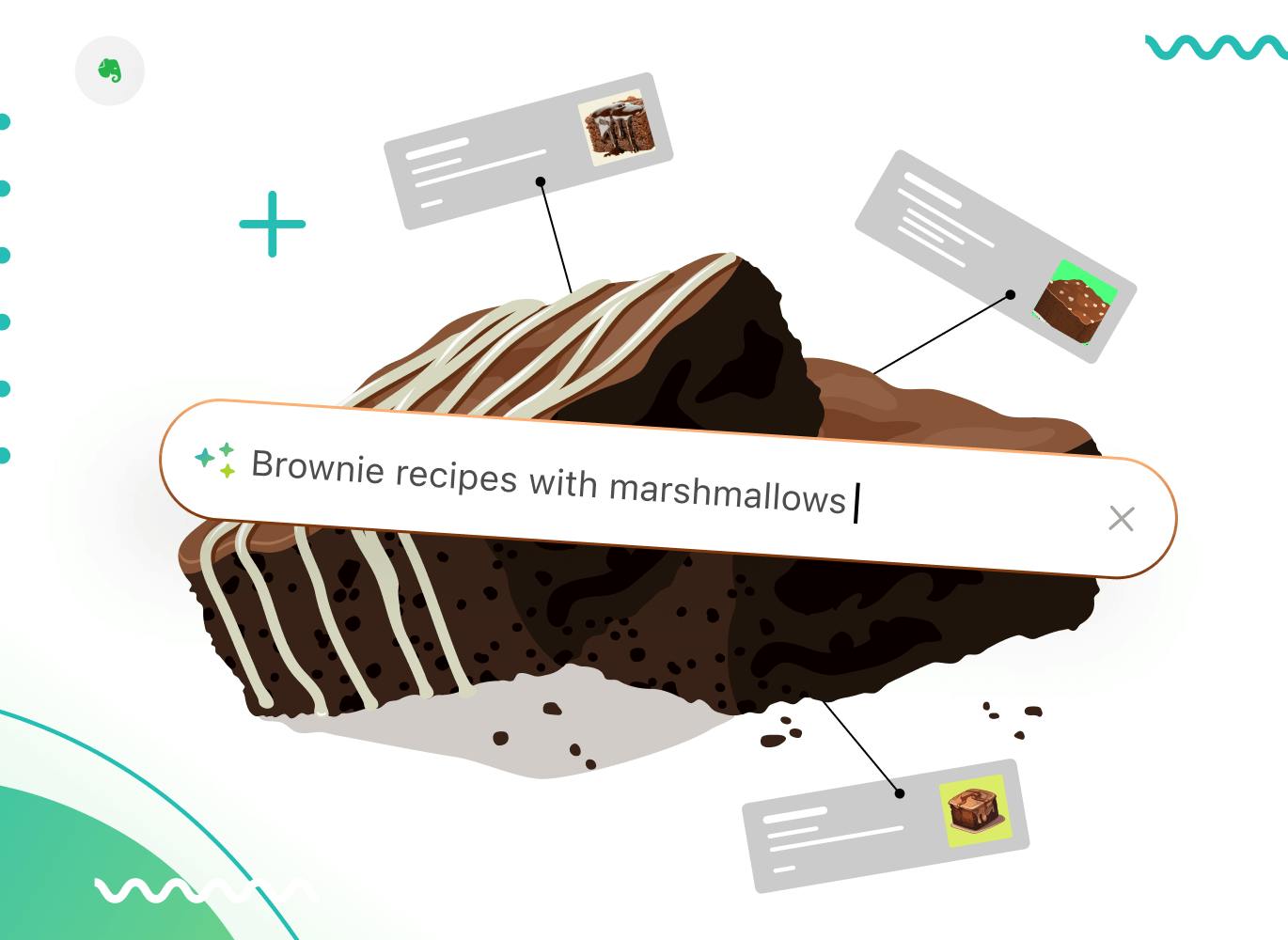 If you enter a filter request, AI-Powered Search shows you all the relevant notes that match your parameters. The results are more similar to those generated using Standard Search—in this case, you don't need to rely on existing filtering parameters or more complicated boolean searches.
The more information you store within Evernote, the more helpful AI-Powered Search becomes. Here are just a handful of other ways you can use this new search feature in your day-to-day life: 
Achieving goals: What's my workout plan for Monday?
Meeting preparation: What were the key takeaways from my call with Linda from Marketing?
Paying bills: Electricity bills past 3 months
Recalling… anything!: Email address for Gwen from last year's sales conference in Boston
AI-Powered vs. Standard Search
We want to make clear that we created AI-Powered Search as an alternative to, not a replacement for, Standard Search. If you're happy with things the way they were, then you can continue using it without any disruption. We're bringing you more search options, not taking any away.
Indeed, you might find it best to use both AI-Powered Search and Standard Search at times, according to the specific use case.
AI-Powered Search is best for getting a direct and succinct answer to a question, especially when searching a large number of personal or shared notes all at once. It's also a great way to filter your notes if you don't have a robust organizational system in place.
Instead, Standard Search is best for retrieving one or more notes when you already know the right combination of keywords and filters to find them, or you want to leverage the powerful advanced search syntax.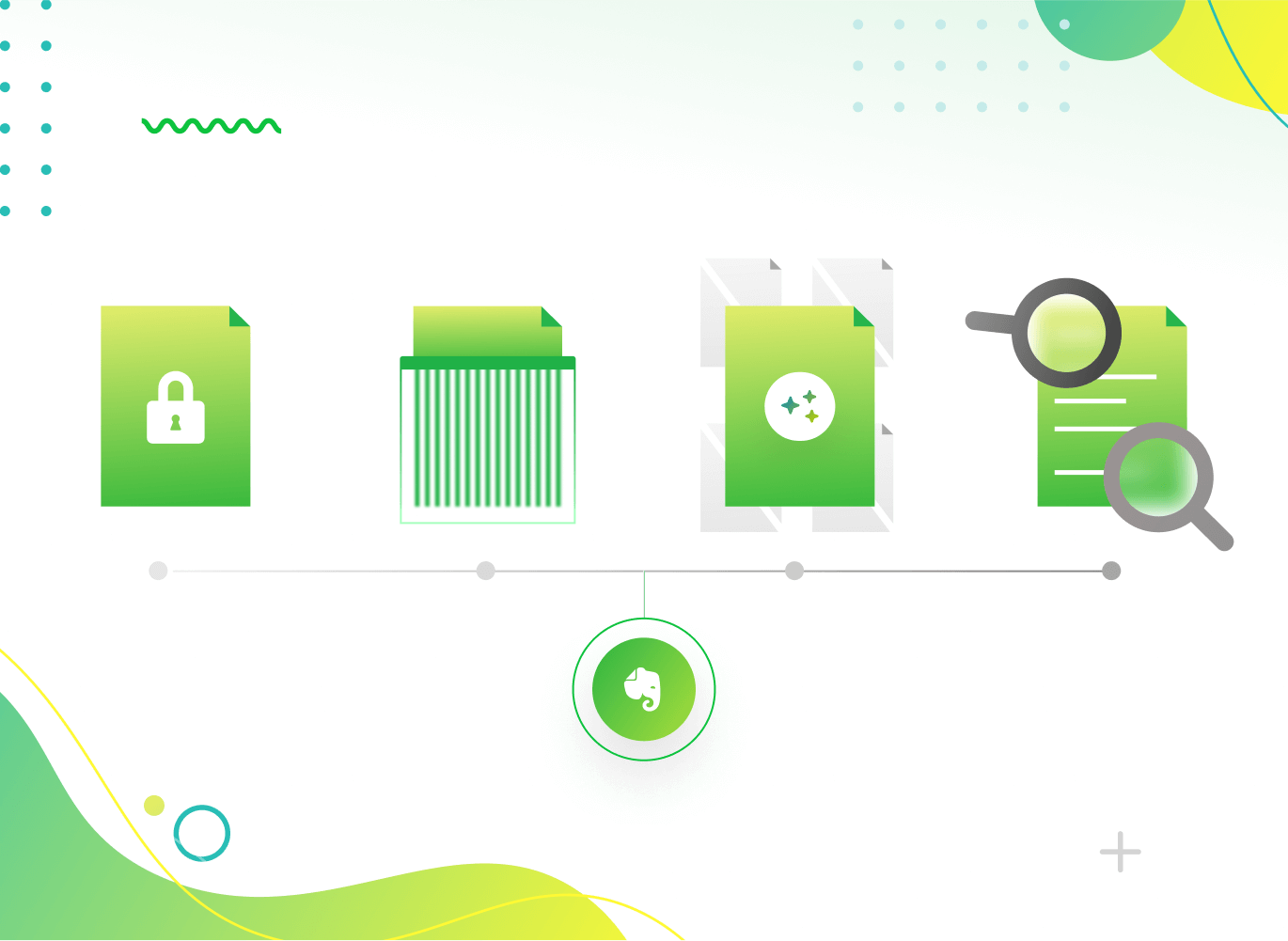 Note processing & consent
AI-Powered Search uses a third-party API to generate your search results. This means that each time you use the new feature, a subset of your data is processed externally.
For every search you make, the following is always the case:
Your data remains confidential.
Your data is deleted by the third party within 30 days.
Only your most relevant notes are processed. When you input your query, the first thing we do is identify the most relevant notes for that specific query. Those are the only notes processed by the third party to provide you with an answer.
Your data isn't used to train an Evernote or a third-party AI model. Neither the third party nor Evernote or our parent company Bending Spoons "learn" from your notes or your queries. Each new query is always treated as an independent event.
Given the importance of the topic of data security and privacy, this is worth underscoring: Using AI-Powered Search once doesn't mean you're granting carte blanche permission to process your data forever. Each usage is considered an independent event—meaning every time you want to run an AI-powered search query, we'll ask for your permission to process that specific query, and nothing else. Selecting "Do not show me again" from the associated pop-up doesn't mean that we then start treating your data differently—it just means we won't bug you with the pop-up next time.
Innovating with intention
With much of our focus currently on future-proofing Evernote's fundamentals, it's vital that we're intentional about how we choose to innovate. This means creating new features and tools only when we're certain that they'll solve real problems for our customers.
That's why we're particularly proud of AI-Powered Search. This newest feature is the result of countless hours spent with Evernote customers and Experts to ensure that we deliver something powerful and useful—and something truly unique to Evernote's vision of helping you remember everything.
Beyond AI-Powered Search, we've started to explore some more, similarly impactful tools. These include some new AI features for the Editor beyond those currently available through AI Note Cleanup. But we'll leave that for another post!
AI-Powered Search is available on Evernote Desktop and Web from September 11. All users can access it for a limited time before it becomes available only to those with a Personal, Professional, or Teams subscription (some people have been asking: there's no surcharge). Be aware that it will be in Beta for a while, so some glitches and issues are to be expected. We'll get them ironed out quickly!
Try it for yourself and let us know what you think via the Forum or by tagging @evernote on social media.