Why choose Evernote?
Evernote gives you everything you need to keep life organized—great note taking, project planning, and easy ways to find what you need, when you need it.
Let's get started
Remember everything. Accomplish anything.
Evernote stands out to help you stay productive.
Flexible organization
Evernote doesn't force you to organize a certain way. Create a system of notebooks or don't organize at all. Any note is a quick search away.
Available everywhere
Have an iPhone and a Windows computer? Android and Mac? Like using Linux? Unlike most note-taking apps, Evernote works on them all.
Web Clipper
Some note-taking apps strictly limit what you can save online. Evernote's Web Clipper lets you save and annotate web pages, images, and PDFs.
Character recognition
Find notes by searching for keywords, even if the words appear in photos, whiteboard scans, business cards, handwriting, or documents.
Web application
Many note-taking apps lack a fully functional web application. Evernote Web offers a complete lineup of features from any major browser.
App integrations
Evernote works with the apps you rely on, including Google Drive, Slack, Outlook, MS Teams, Zapier, and Gmail.
Evernote is a powerful tool for managing your tasks right alongside all of the information you work with every day.
Forbes

Hit every deadline
Link notes containing important action items to your calendar events, and Evernote will surface the info you need—right when you need it.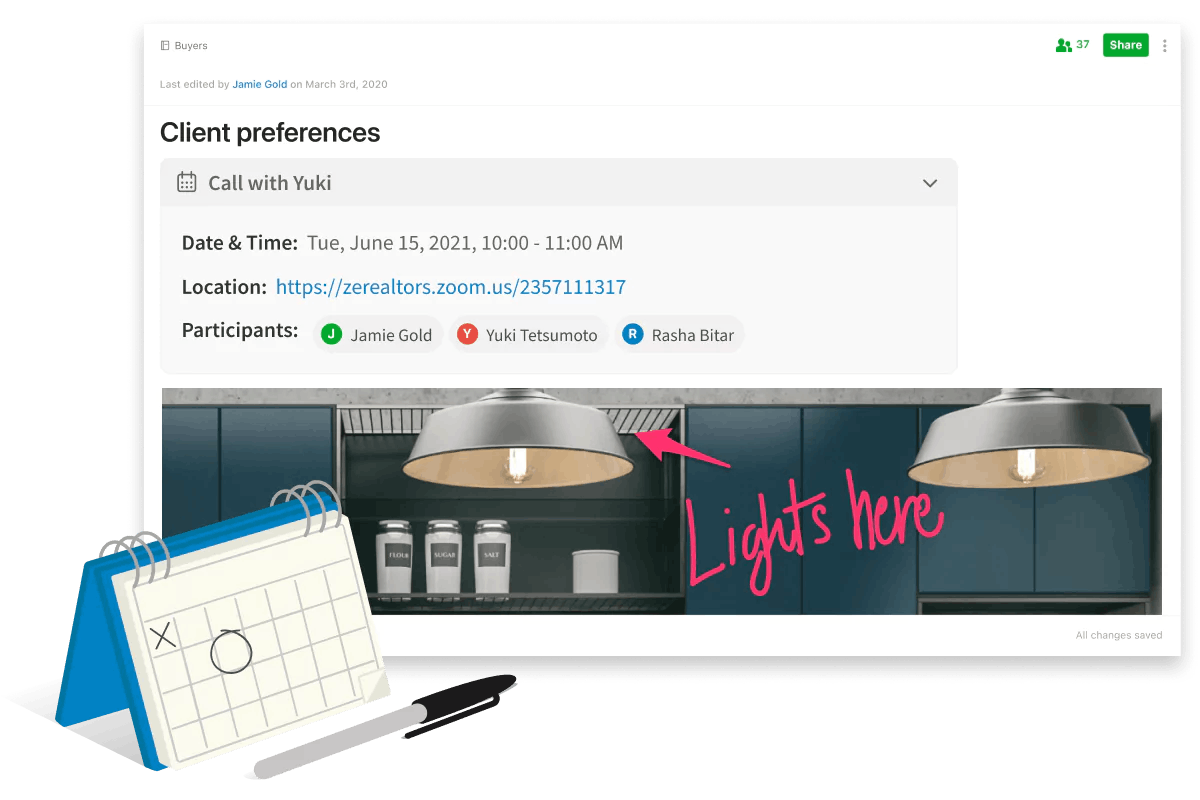 Capture more than words
Get ideas down fast and combine them with images, sketches, documents, and audio recordings to turn passing thoughts into plans for action.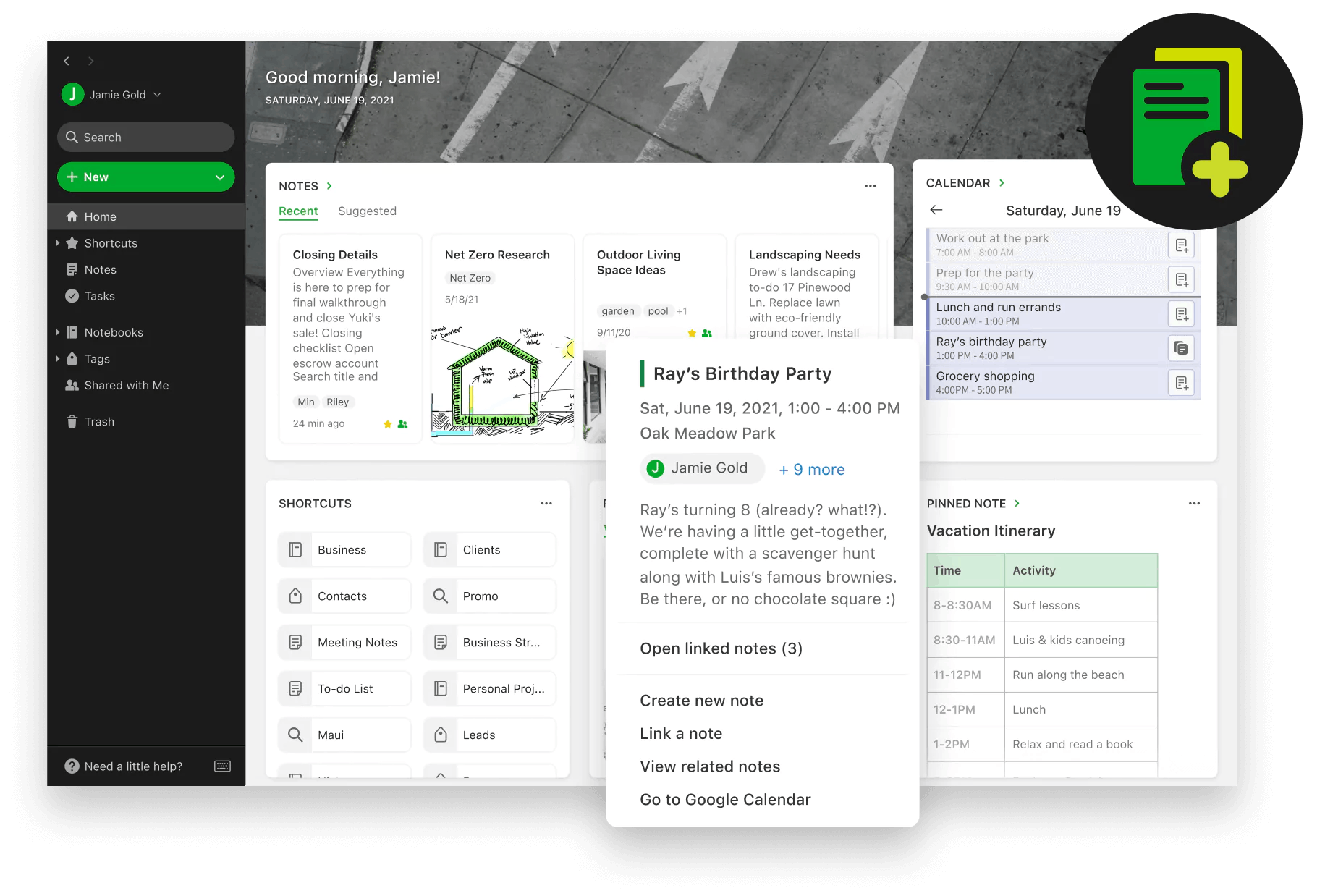 Tackle your to-dos
Stay on top of it all by adding due dates, reminders, and flags to your tasks. Set up recurring tasks to keep weekly or monthly to-dos on your radar.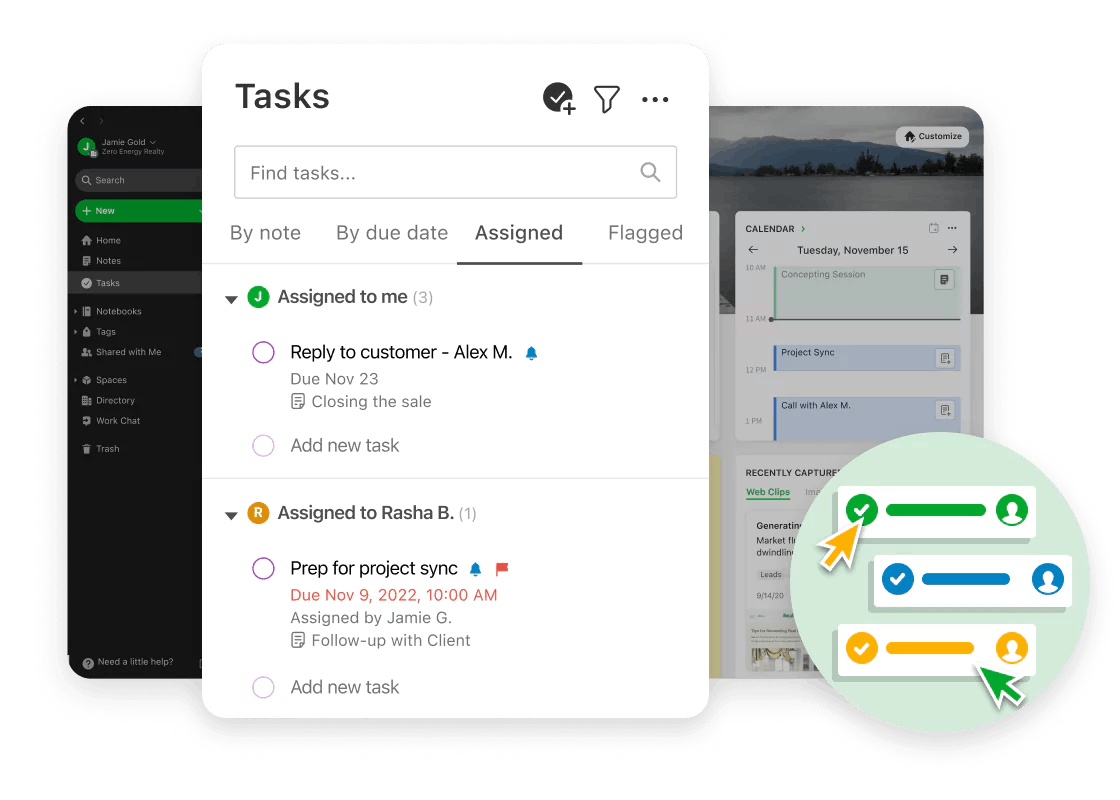 You'll find it easy
Keep all your project materials in one place—including checklists, emails, and PDFs. Smart search puts it all at your fingertips.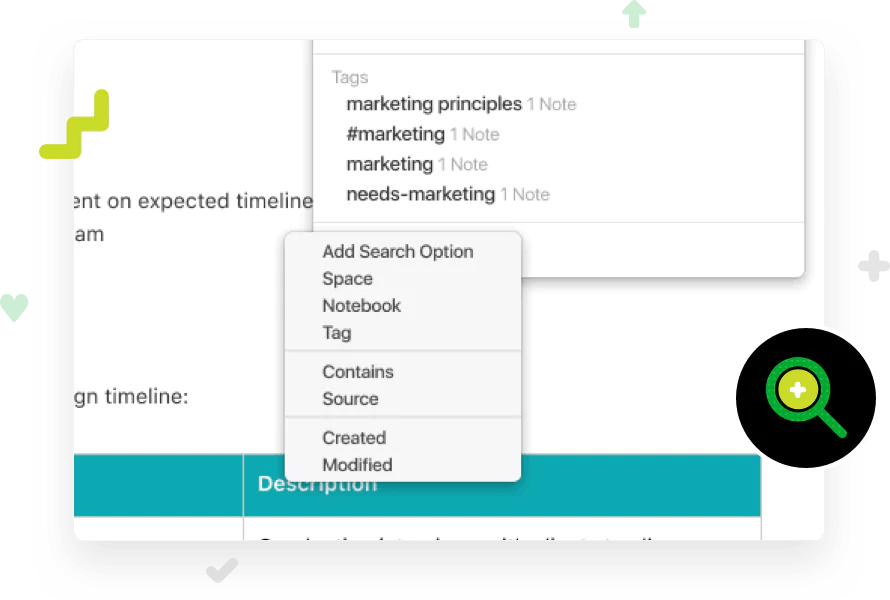 Get past "getting started"
Move tasks forward at work, home, and everywhere in between.
Meetings
Make meeting prep a breeze by linking notes to your calendar events.
To-dos
Give your memory a break by adding reminders to your tasks.
Projects
Customize Home to show everything you need for your next big project.
Professional goals
Quickly create the perfect plan to help you get organized—and get ahead.
School
Stay on top of your assignments and never miss a due date. Learn more.
Writing
Express your ideas and find them quickly with search and keyword tags.
Vacations
Let yourself relax. Keep the info you need for your getaway all in one spot.
Pets
Walking schedule—check. Vet's number—check. The mess on the rug—uhh...