Since rolling out Tasks in Evernote last year, it's been climbing the charts as one of our most popular features. In a recent survey of Evernote Professional customers, a whopping 88% of Tasks users said it's making them more productive. And no wonder: Adding tasks to your workflows makes it easier than ever to get things done. So you're not just remembering what matters, you're also taking action.
Now we're excited to announce that Tasks is even better, thanks to the addition of one of your most requested features: recurring tasks!
We all have plenty of things to do in our day-to-day lives, many of which recur on a regular basis—from writing status reports to remembering to buy birthday gifts. Capturing those things in Evernote helps a lot, but it's still an effort to make sure you create a new task every time the cycle starts over. That's where recurring tasks come in.
Set up a task to recur, and the moment you check it off, the task's due date automatically updates to the next time you need to do it, saving you time and mental energy.
How it works
When adding a due date to a task, you'll see an option to make that task repeat. Choose from preset options like "daily" and "weekly," or set your own custom intervals to make them repeat as often (or as rarely) as you like. For example, if you need to give your dog his flea treatment every four weeks, that's easy to set. Or if you prefer a reminder on fixed dates, like submitting an expense report on the first of every month, or buying a birthday present every year on June 5th, recurring tasks makes that easy as well.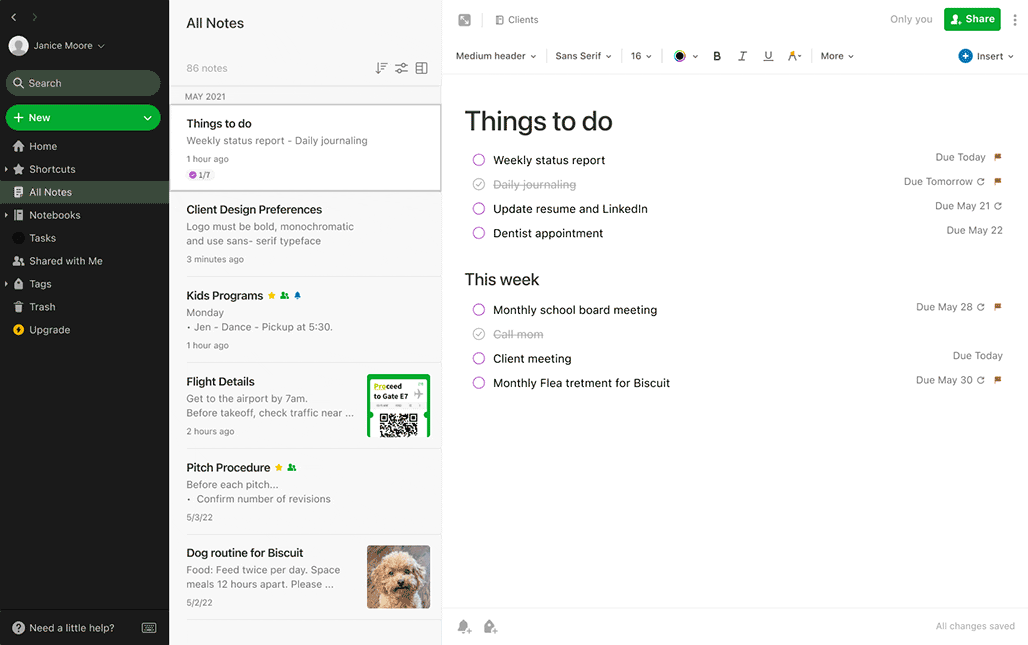 Whether they're one-off or repeating, you can manage all your tasks from the Tasks view in Evernote. Recurring tasks are easy to spot thanks to the circular arrow icon next to the due date—the only difference is that when you mark a recurring task as completed, it'll automatically reset to the next due date.
And just as you can with all your tasks in Evernote, you can set a reminder on any recurring task to notify you when it's coming due.
Keep your projects on track

Let's say your goal is to improve the efficiency of your team's weekly meeting. To make sure you always come prepared, create a recurring task to update the agenda and summarize the team's progress. You can schedule a reminder to work on this task two days before the meeting, and set the due date for one day before your meeting, so you have time to get it done and your team has time to review in advance. This recurring task can live directly in your weekly meeting notes, so your note is easily accessible when it comes time to prepare each week.
Recurring tasks can also help to keep team projects on track. Perhaps your client requests a monthly campaign performance report. You can assign recurring tasks to members of your team to submit their individual portions, and assign a recurring task to yourself to review and compile the report. You can even check in on your team's progress at a glance by viewing all the tasks you've assigned to them from the "Assigned" tab in the Tasks view.
Endless uses
Recurring tasks aren't only useful at work. Let's say you're on the school board for your daughter's middle school. You can set a recurring task in Evernote to prepare a financial report for the monthly board meeting, and you'll get reminded beforehand—without having to reset the task each time. If the schedule changes, no problem. Once you edit a series, all your subsequent tasks update automatically.
No matter what you have going on in your life, from a daily meditation practice to keeping your resume up-to-date, recurring tasks help you manage it all with ease. It all depends on what works for your schedule and lifestyle.
Whether you use Evernote to be productive at work, manage a project, or simply to keep your life in order, recurring tasks can help you stay consistent and stay organized—with minimal stress.
Recurring tasks is now available in the latest version of Evernote.