Evernote + Slack
Streamline information sharing and make communication more transparent.
Connect with Slack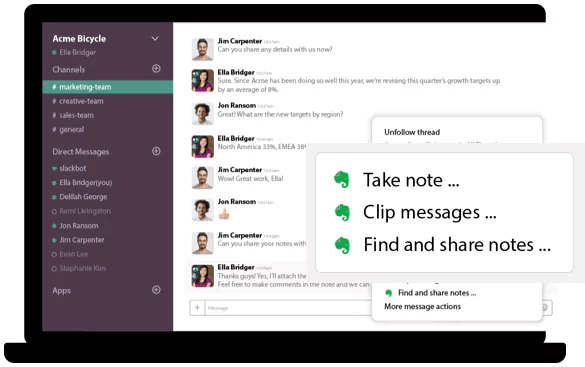 Communication made easier
Communication is key for a team's success. With Evernote integrated into Slack, you can make conversations richer and more actionable by adding Evernote information without leaving Slack.
Slack & Evernote Teams
What to Expect
Combine work and chat
Search, find, and share notes made in Evernote to Slack chat - without breaking conversation flow.
Never lose your conversations
Valuable conversations and decisions made in Slack are quickly saved to Evernote for future reference and retrieval.
Make yourself a note
Set a reminder, create a task or just capture a thought into Evernote while you're in chatting in Slack.

The perfect combination
You work in Evernote. You chat in Slack. Now you can increase productivity and efficiency by combining two main features of team and individual work flows.